A returnee, Evans Oppong has been arrested for allegedly attempting to sacrifice his daughter for money.
The suspect, who claims to have returned from a sojourn abroad, is said to have visited the home of a herbalist, Nana Adu-Boafo and requested to be made rich.
Nana Adu-Boafo Jnr, appalled by the situation, recorded their interaction on tape and reported to the Police right after that.
Narrating the incident on Facebook, the herbalist said the suspect picked up his daughter from school under the pretense of buying her a new dress.
He noted that Mr. Oppong's intention was, however far from getting his daughter the promised attire.
"This man is a bad man with many evil intentions. He doesn't even feel anything for his own girl. Wow, what a wicked soul," he posted on Facebook.
According to Nana Adu-Boafo, the suspect tried to induce him with money, but nothing convinced him to perform such a cruel act.
"I was crying within me, because I have sympathy for humans and animals, I don't kill people, sometimes I don't even eat my own poultry, because I grow so much love for them.
"I want to prove to him I am a clean and gentle herbalist. I recorded every scene and talked to the Police and my mother and godmother. I am the Son of the Sun, I don't harm people, I am a helper instead," he said.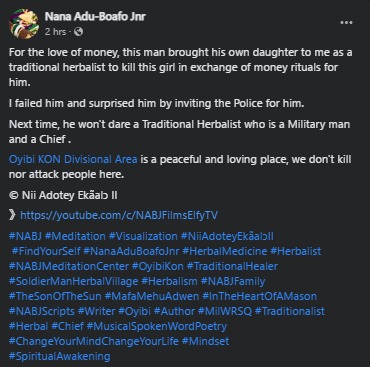 Reporting to the Police, Nana Adu-Boafo said the suspect told him he traveled outside the country in search of greener pastures but all efforts to make money proved futile.
Then upon his return to Ghana, as a father of 12, he decided to sacrifice two of them for cash.